Well, Thanksgiving will be in just a couple of days -and we're going to my in-law's. So we'll miss out on my side of the family's
craziness
fun. But,the truth is I never know how it will go at the in-law's either...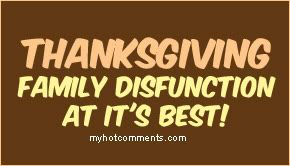 After 10+ years of marriage I have adjusted somewhat - But, let me set the scene of how it has been -Used to be that my in-laws smoked -Oh and my MIL had 7 kids (mostly boys) So, at 1 point it was like walking into some kind of crazy smoked filled bar -with the inevitable boys wrestling around over there and someone else screaming expletives about something else over there. Not saying I came from a perfect; quiet family but, still it's a little shock to the system for me. Luckily things are a bit different now - sure there's still quite a few people and it can get LOUD -at least I can stand to stay there being a smoke free house now -The only person that still smokes (outside) is my 1 BIL - And that BIL is a whole other story...
I just hope it's not like the last Thanksgiving we were there (2 years ago) when that particular BIL and me got into it - well, actually him and a few people. He's the type who is negative about most things and people -including me. As I was saying before their family takes a little adjustment for me- I can be kind of quiet/reserved sometimes which is different for them- I guess. Anyways I guess there's been some tension there with that BIL -he often makes remarks about people being lazy -etc. me included because I'm a stay at home mom-yada,yada. I try not take things personally but, I guess he represents
that
type of people -so, we got into it. I was actually kind of proud to stand up for myself -And like I told him like he has a lot of room to talk -this coming from a guy who the 1st time I met him was when he was in prison -I mean seriously-Urgh! So, yeah that was an interesting Thanksgiving -he made the other sis-in law cry, me and other people mad, which in turn also made my Mother in law upset. Well, here's hoping things don't end up like that again -(hopefully) Happy Thanksgiving!